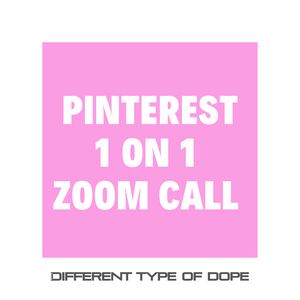 Pinterest 1 on 1 Zoom Call
If you want to take your business to the next level using Pinterest; this zoom call will walk you through all the basics!
We will spend 30 minutes OR 1 hour going over everything you need to succeed.
✨Pinterest 101 Overview
✨Business Account Set Up
(Bio Optimization, Website Integration Walk Through etc)
✨Board Set Up & Placement
✨What to Post & Where
✨Walk Through Of My Exact Method 
This will be an in depth call, that will put you in position to truly understand Pinterest and how to make it profitable for your business or brand!
*You will receive an email from me with your Zoom link to whatever email you use at checkout*