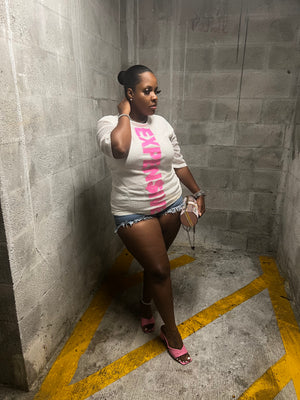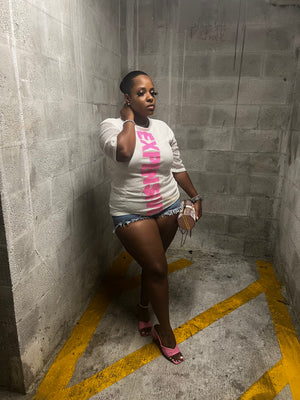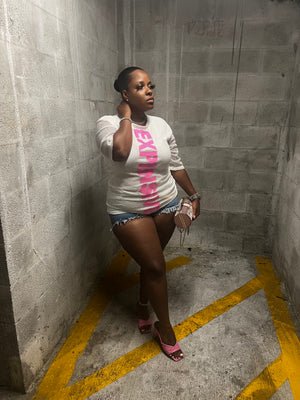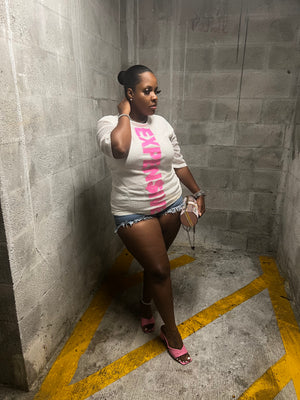 Expen$ive Sequined Tee
Introducing the Expen$ive Sequined Tee
Prepare to make an entrance that's worth every penny with our Expen$ive Sequined Tee! This isn't just a shirt – it's a statement, a showstopper, and your ticket to owning every room you walk into. Drenched in white sequins that shimmer and shine like a cascade of stardust, this tee isn't just cute – it's a fierce fashion force to be reckoned with.
Picture this: You stride into the scene, and jaws drop as if on cue. The dazzling white sequins catch the light, turning you into a walking spotlight. And right there, down the front in bold, bright pink letters, reads "Expen$ive" – because you know your worth, and you wear it with pride. This tee isn't just about fashion; it's about attitude and the unapologetic confidence you exude.
Made for the trendsetters, the risk-takers, and those who refuse to blend in, the Expen$ive Sequined Tee is a masterpiece of glitz and glam. Whether you're hitting the dance floor, strutting down the street, or owning the virtual runway, this tee promises to turn heads and make a statement that's as loud as your personality.
But let's not forget the comfort factor. Crafted with care, this tee ensures that you look like a million bucks without sacrificing an ounce of comfort. The high-quality fabric moves with you, giving you the freedom to conquer the world while feeling as fabulous as you look.
Are you ready to rewrite the fashion rulebook? Then grab your Expen$ive Sequined Tee and let your style do the talking. Don't just follow trends – set them. Don't just make an entrance – make it unforgettable. Get ready to slay, sparkle, and show the world that being "expen$ive" isn't just a label – it's a lifestyle.
Get yours now and let your confidence shine as bright as those sequins. Be bold. Be unapologetic. Be Expen$ive.